North American Climbing History Archives
Where Climbing History Lives
The NACHA Mission
To gather, document and celebrate climbing history in image, word and artifact with special emphasis on personalities and events in North America and fostering climbing culture.
501c3 nonprofit status is pending for NACHA but we are actively producing historical gatherings such as the third annual Oakdale Climbers Festival and Granitica Festival in Tucson. Program information and ticket registration can be found on the Festival website at: www.oakdaleclimbersfestival.com
OAKDALE CLIMBERS FESTIVAL 2014 FLIER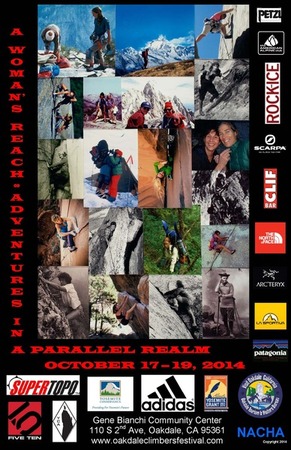 This coming October 17-19 at the Gene Bianchi Community Center in Oakdale, California, climbers, outdoor enthusiasts and history buffs will be gather for the third annual Oakdale Climbers Festival.

The theme for 2014 is: A Woman's Reach- Adventures in a Parallel Realm. We will be taking a diverse look at women's climbing history drawing upon the experiences, wisdom and perspective of several generations of women climbers. A Woman's Reach is the title of Nea Morin's 1968 autobiography. She actively pioneered difficult climbs in the Alps, often with other women, after World War I. Nea understood the importance and context of her accomplishments and took the time to compile a list of notable feminine first ascents worldwide included as an appendix.

Following the end of World War II, despite a surge in interest in climbing, the proportion of women and standard of their achievement failed to match prewar levels. Nea noted "There are now many more women's parties climbing on British hills, in the Alps and in the Himalayas than in the past. Nevertheless during the twenty years since the war there has not been a great number of notable first ascents by women's parties in the Alps and the tremendous increase in the standard of climbing achieved by men has now widened the gap between men and women".
We will be examining this historical trend and the subsequent rise to parity with climbs such as Lynn Hill's free ascent of the Nose of El Capitan in Yosemite National Park.

The advent of climbing gyms (with ready access to the experience of climbing) and other cultural changes have contributed to a marked shift in the demographics of our sport. We will be hearing directly from the women who have shared and shaped the passion and dreams of their own time in order to inspire those present to claim their own new realms of adventure. Inspiration, mutual appreciation and respect are at the heart of our Festival.

On Friday evening at 6:00 pm after opening remarks, keynote speaker and world renowned mountaineering historian, Audrey Salkeld will discuss her selection of historical women climbers of note. Following this presentation we will celebrate the 36th anniversary of the successful 1978 American Women's Himalayan Expedition. After screening Dyanna Taylor's documentary film Annapurna: A Woman's Place and hearing her commentary, we will hear from all of the available surviving members of the team about this grand adventure and how it has fit into their lives. Expedition leader Arlene Blum, summit climber Irene Beardsley, Annie Whitehouse, Christy Tews, Margaret Rusmore and Piro Kramar will share their reflections with us. Jan Sacherer who has studied Sherpa culture intensively will close the evening with a brief commentary on the immediate local perception of this ground breaking expedition. The program will conclude by 10 pm.

On Saturday beginning at 10 am panels of three speakers per hour will reflect qualitatively on their roots as climbers, the influence of other women either mentoring or inspiring them to set their goals and direction and on important partnerships and pivotal adventures. Speakers will illuminate the challenges and gifts of friendship and community that climbing has to offer. Substantial breaks between panels are intended to encourage personal interaction and discussion.

The prospective speakers on Saturday include: Arlene Blum, Irene Beardsley, Janie Taylor, Jan Sacherer, Elaine Mathews, Cherry Schacher (Merritt), Rosie Andrews, Jill Lawrence, Annie Whitehouse, Kitty Calhoun, Maria Cranor, Mari Gingery, Beth Bennett, Carla Firey, Ellie Hawkins, Sibylle Hechtel, Barbara Eastman-Kimbrough, Sally Moser and Beth Wald with more to be added. The program will conclude by 10 pm.

The Sunday program will begin at 10 am and will involve smaller panels of two discussing their recent activities, goals and influences. Speakers will include Beth Rodden, Madaleine Sorkin, Heidi Wirtz, Pamela Shanti Pack and Mayan Smith-Gobat with more to be added. The Festival will conclude by 4 pm.

Come and meet these amazing women and hear about their adventures worldwide at the Oakdale Climbers Festival.North American Climbing History (NACHA) director Steve Grossman is responsible for the Festival programming and content. More about NACHA is available at: climbinghistoryarchivesna.com

Updated Festival information can be found and tickets purchased on the Festival website.
www.oakdaleclimbersfestival.com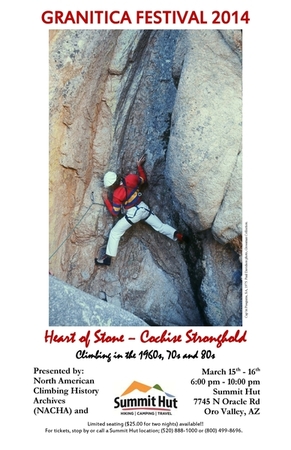 Saturday Program
Baboquivari-Don's Crack Joanna Coleman and Don Morris, 1967 SA Dave Baker, Merlin Wheeler,1970 FFA Dave Baker and Mike McEwen 1971

West Stronghold-The Tombstone Dark Shadows Peter Depagter and Larry Seligman, 1971
Cochise Dome- What's My Line Dave Baker, Peter Depagter and Larry Seligman, 1973 Direct Start Mike McEwen and Dave Baker 1970s
Stronghold Dome-Beeline Merlin Wheeler and Mark Axen, 1972 Buck Traverse Steve Grossman and Tony Herr, 1983
End Pinnacle-Cap'n Pissgums Dave Baker and Mark Axen 1972(?). FFA Steve Grossman and Fig Fiola 1975
.
End Pinnacle- Days of Future Passed Dave Baker, Steve Grossman and Richard Thompson 1974
Bastion Towers-Forest Lawn Mike McEwen, Gary Axen1975 Complete route Mike McEwen and Dave Baker, 1976 Pair a Grins finish Eric Fazio-Rhicard and Michael Jimmerson, 1985
Chay Desa Tsay-As the Wind Cries Steve Grossman, John Steiger and Paul Davidson, 1979
Rockfellow Dome- Devoid Steve Grossman and Fig Fiola, 1981
Be All End All Dave Baker and Fig Fiola 1982 FFA Ray Ringle, Herb North and Tony Herr, 1983
Sunday Program
Rockfellow Dome-Knead Me Dave Baker and Mike McEwen 1972
Rockfellow Dome-Labyrinth Route Merlin Wheeler, Joanna Coleman Don Morris and Dave Baker, 1972
Rockfellow Dome Abracadaver Mike McEwen, Dave Baker and Steve Grossman,1975 FFA North Face via Abracadaver Stan Mish, Jeff Bauman and Jon Williams
End Pinnacle- The Uncarved Block Chip Chace and Ray Ringle 1980
Rockfellow Dome-The Sound of One Hand Thrashing(CTG) Chip Chace and Ray Ringle,1980
Rockfellow Dome-Sensory Disquietude Chip Chace and Ray Ringle, 1980
Cochise Dome- Let's Make a Deal Steve Grossman and Paul Davidson, 1981
End Pinnacle-Poetry in Motion Steve Grossman and Brad Smith, 1982
Rockfellow Dome Lumpy Unmentionables Jim Waugh and Ray Ringle, 1984
End Pinnacle-Great Gig in the Sky Steve Grossman and Jay Ladin,1986
Cochise Dome-Double Jeopardy Steve Grossman and Steve Amter, 1985
Stronghold Dome-Apache Tears Peter Noebels and Steve Grossman, 1986
West Stronghold-Westworld Dome-Warpaint, Eric Fazio-Rhicard and Bob Kerry, 1989
Rockfellow Group-Tour du Jour Dave Baker and Fig Fiola 1981
Speakers List
Joanna Coleman
Merlin Wheeler
Dave Baker
Martin Woerner
Mike McEwen
Mark Axen
Gary Axen
Peter Depagter
Larry Seligman
Steve Grossman
Eric Fazio-Rhicard
John Steiger
Paul Davidson
Peter Noebels
Ray Ringle
Chip Chace
Geir Hundal
Clay Mansfield
Stan Mish
Jeff Bauman
Jon Williams
Jay Ladin
Josh Tofield
Bob Kerry